Daily Train services London-Harrogate each way every day
The East Coast timetable includes a direct service between Harrogate and London Kings Cross providing the following trains SEVEN DAYS A WEEK. To book tickets go direct to www.virgintrainseastcoast.com
19 May 2019 - 14 December 2019

Route:

Southbound

Northbound

Weekdays:

07.34 -10.31

17.33 - 20.27

Saturdays:

07.35 - 10.31

18.33 – 21.28

Sundays:

17.07 - 20.05

18.03 - 20.57
Look out for for special offers on this service for local residents in the local press!
In addition to the above direct London - Harrogate trains, there are over 60 connections each way every day between Harrogate and London Kings Cross. These connections are usually every half hour via Leeds and every hour via York, operated by Northern Rail. See www.northernrail.org for the current timetables.
Quotes from recent satisfied users of the service:
Mark Lancaster, Managing Director, Colour It In Ltd (Past President of Harrogate Chamber)
"I was on the new train yesterday - what a fantastic service! It gave me all day to do business in central London. No more waiting on York station dreading the cattle truck to Harrogate or worse still missing it altogether and having to get a taxi!"
John Nicholson, Head of Business Development, Business Banking, HSBC Bank, London
"Although I haven't been able to get the 5.35pm train quite as often as I would like, it is a fantastic improvement. Having to change in York or Leeds on my weekly journey back from London is undoubtedly the worst part of the trek home...... to the real world! I'd encourage as many people as possible to try their hardest to use it - only by demonstrating the need will we get a more frequent service."
Please send us your comments, whether good or bad, we will pass them on to East Coast Trains, who want to hear them all!
The first weekday train direct from London Kings Cross
is welcomed into Harrogate Station by the Mayor

Harrogate Chamber of Trade & Commerce welcomed the commencement of the new East Coast direct services between London Kings Cross and Harrogate. In addition to the existing weekday southbound service they are now also operating Saturday and Sunday services in both directions.

Chamber Chief Executive Brian Dunsby said that this will be the first new rail service to Harrogate for over 25 years and it would be welcomed not only by Harrogate business people and local residents returning from trips to London, but even more importantly by the thousands of business and leisure visitors coming to Harrogate from London, from the South-East of England and from East Anglia.

The new Sunday evening southbound service from Harrogate to London Kings Cross will attract more visitors to spend a long weekend in Harrogate. This service will be promoted in a variety of weekend packages in conjunction with Harrogate's many luxury hotels. The same service will also be ideal for Harrogate business people and residents going down to London either for meetings starting early on a Monday morning or for long-haul flights departing from Heathrow or Gatwick on Monday morning.

The first direct weekday train to arrive in Harrogate Station for more than 25 years arrived on time from London on Monday, 23rd May 2011 and was welcomed with a Civic Reception led by the Mayor of Harrogate. Champagne and canapés were served, courtesy of Cedar Court Hotel on behalf of Destination Harrogate and white roses were given to arriving passengers by Harrogate in Bloom, along with Yorkshire Tea and Bettys biscuits! A new film production 'I just love Harrogate' was shown while they waited for the train.

Over 70 people waited on the platform to greet the train with a cheer and St Aidan's C of E School Swing Band played the train in with celebratory music.

The picture to the left shows Harrogate's Mayor, Les Ellington, holding the BIG TICKET together with Karen Boswell, Managing Director of East Coast Trains.

White Yorkshire Roses from Harrogate in Bloom
for arriving passengers

Brian explained that conversely, the new Sunday evening northbound service enables delegates coming to Harrogate for Conferences and Trade Exhibitions to travel up on a Sunday evening ready for an early start on the Monday morning, whereas at present the fast connections from Kings Cross to Harrogate do not arrive until about 10.00am, and these depend on a good connection in Leeds or York.

For Harrogate residents the new weekend direct services enable people to spend a weekend in London and return conveniently on the new Sunday evening train to Harrogate arriving about 9pm.

Simon Cotton, Chamber President, added that whilst there are now frequent fast services from Kings Cross to Leeds and York, connections to Harrogate are poor quality and often ill-timed. Changing trains is seen as risky, inconvenient, and time consuming - whilst the rolling stock falls significantly below most customer expectations. Nevertheless there are about 2 million passenger journeys a year to and from the Harrogate District Stations, confirming the local propensity for rail travel. Simon added that to enable Harrogate International Centre to compete with the other major Conference Towns in the UK we really need several direct trains to and from London every day.

Brian Dunsby explained that this new evening return train was just the first stage of the Chamber's campaign to achieve a direct return service between Harrogate and London Kings Cross several times each day. The campaign group created a 25-page bid document entitled "Why Harrogate Trains?" which had the following short, medium and longer term objectives to provide the frequent direct trains to and from London that Harrogate and its many visitors deserve.

l to r: Karen Boswell, MD & Elaine Holt, Chair, East Coast Trains with
Andrew Jones MP and Brian Dunsby, CEO, Harrogate Chamber
Short Term 2011 - two direct trains per day HGT-KGX every day = 1 each way (now achieved)

Medium Term 2012/13 - four direct trains per day HGT-KGX = 2 each way

Long Term 2014/16 - a two-hourly service HGT-KGX every day = 7 each way
Following the successful Civic Reception on 23rd May the following messages of support were received by Harrogate Chamber: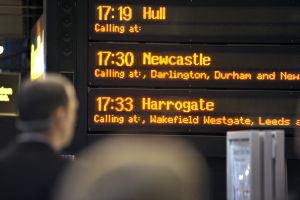 Elaine Holt, Chair, East Coast Trains Ltd: "The team told me that it was a fantastic reception. I think you did East Coast proud."
Don Mackenzie, Leader of Harrogate Borough Council: "I just wanted to say how well I thought last evening's reception of the new direct KX train went. It was a really great occasion, as was the departure from KX witnessed by my daughters. Well done to all concerned."
Wallace Sampson, CEO, Harrogate Borough Council: "Can I echo Don's comments. The reception was well organised, which we have come to expect of you. Most important of all it was a fitting occasion to mark the hard work that the Chamber, and you personally, have put in to bring this new service to Harrogate."
Andrew Jones MP for Harrogate & Knaresborough: "What a successful day! Many congratulations. It was great to see the train leave King Cross for Harrogate yesterday, and I have heard how well the reception celebrations went at Harrogate Station. It has been a long journey to reach yesterday's landmark, but it was a real watershed in the connections for our town. Congratulations again."
Karen Boswell, Managing Director, East Coast Trains Ltd "I am thrilled that we are able to offer a direct service to Harrogate from King's Cross each evening and it was great to be able to be part of such a historic event. The welcome to East Coast in Harrogate on Monday evening was wonderful and certainly something that I will remember for many years to come."
Cllr. Philip Broadbank, Leader of Harrogate LibDem Group: "A great evening on Monday at the Railway Station by the way - well organised and well done for all the hard work by the Chamber and yourself. A great boost for Harrogate! Thank you again."
Gideon Fireman, Communications Manager, East Coast Main Line Company: "Last night was another great event and I want to give my personal thanks to you for the work you have done and the assistance you have given me in doing my job regarding the Harrogate service over the past few months."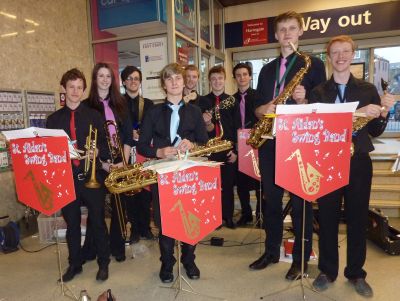 Sharon Canavar, CEO, Harrogate International Festivals: "Huge congrats Brian. So pleased for you, and all down to your hard work."
Below are transcripts of the speeches made after the arrival of the train at Harrogate Station:
Simon Cotton, President, Harrogate Chamber of Trade & Commerce:
Mister Mayor, Madam Mayor, distinguished guests, ladies and gentlemen.....welcome to Harrogate!
On behalf of Harrogate Chamber of Trade and Commerce I am delighted to have the pleasure of welcoming our first passengers who have made this historic journey this evening.
The introduction of this new Harrogate to Kings Cross daily return service has tonight become a reality due to the hard work, determination and persistence of many people and it would simply not be possible to thank them all, however you know who you are and our thanks go out to you all. Without their commitment to this huge project, it would not have been bought to fruition tonight.
Caroline Bayliss of Harrogate in Bloom
handing out white Yorkshire roses

This new daily return link from Harrogate to the Capital will mean so much to Harrogate, it's surrounding areas, local business, commuters, tourists, and importantly, conference organisers, who have in the past moved events from Harrogate due to poor transport links. This new service will mean that once again Harrogate as a multi-functional destination will be back on the map as a top destination with the transport to match the already award winning Town, its many attractions, businesses, Hotels, Restaurants, Exhibition, Conference and Concert facilities.

This new transport link has the potential to inject investment into the local economy over the coming years which with the current economic climate continuing to make business decisions hard for us all, this new opportunity to attract new and increased business to Harrogate will be a huge economic boost for the area as a whole.
May I finish with two things, firstly my thanks to East Coast Trains for their support of Harrogate and without whom we would not have this train here tonight, and secondly and probably most importantly, a plea for people to show their appreciation of this, by literally 'getting on board' and supporting this new service so we can ensure this is just the beginning of improved transport links for our wonderful town of Harrogate.
Now, please may I ask you to welcome the Worshipful, the Mayor of the Borough of Harrogate, Councillor Les Ellington.
Cllr Les Ellington, Mayor of Harrogate:
(Speech awaited)
Karen Boswell, Managing Director, East Coast Trains:
Ladies and Gentlemen
Well... After a fantastic journey, what a fantastic welcome to Harrogate.
We're here tonight to mark the launch of the new direct service from King's Cross and also, of course, the new Sunday service between here and London. East Coast knows just how important the new service is to this town. To its economy - especially the conference and exhibition trade and, of course, to tourism.
We also know how hard the business community, the council, the media, and the hoteliers of this beautiful North Yorkshire spa town have worked to lobby for the service.
Special thanks here must go to Brian Dunsby, Chief Executive of the Harrogate Chamber of Trade and Commerce. Brian has worked tirelessly to help put forward a convincing case to introduce the return of seven day services between Harrogate and the capital. And, he's also organised tonight's reception…Thank you Brian.
East Coast was delighted to respond to all of the lobbying activity that has taken place – and to taking forward the ideas and input of local stakeholders and customers. We look forward to continuing this excellent dialogue.
Of course, the improvements to the Harrogate services are part of a new timetable which will bring many more improvements to the East Coast route. These include 19 new services each weekday and 3 million extra seats per year. Network Rail has worked hard to deliver the timetable on behalf of the rail industry and we're both working hard in partnership to deliver services day in day out on the 936 mile East Coast route. So I'm really pleased this evening to introduce you to Richard Lungmuss from Network Rail. Richard is Network Rail's Route Director for the London North East Route. He wanted to travel up to Harrogate especially tonight to be here. Thanks Richard.
But it's not only about a new timetable…. after listening to what our passengers have told us, we're introducing complimentary at-seat dining in First Class and a new Quiet Coach and great customer service is crucially important - and exactly what we will deliver at East Coast - all of the time. It's about ensuring our staff are always personable - and welcoming. Indeed, our new marketing campaign is all about "Welcoming you to East Coast".
So, on that note, Welcome to your new Harrogate service… and thank you once again for the reception you have given us here this evening.
MEDIA COVERAGE:
The new train service was well reported on television, radio and newspapers - click on links below:
BBC Radio York - 23/05/11
Yorkshire Post - 24/05/11