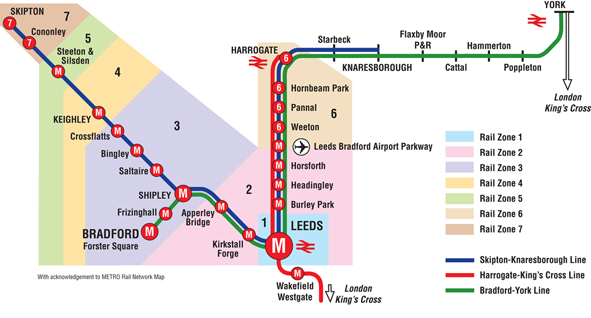 Graphic of potential development of Harrogate Line when electrified
(Click here to download graphic as a PDF)
BACKGROUND
The Harrogate Line between Leeds, Harrogate, Knaresborough and York is one of the busiest lines in the Northern Rail franchise.
Hence there are several schemes planned for upgrading the track, the signals, the rolling stock and some stations.
Read more about the history of the campaign in the following documents (click links to download PDF files):
To keep up to date on developments you may wish to join the Harrogate Line Supporters Group – FREE by e-mail only to info@harrogateline.org
LATEST NEWS - September 2017:
HARROGATE LINE SUPPORTERS GROUP BULLETIN No 25
TRANSPORT UPDATE – HARROGATE DISTRICT
CONTENTS LIST: Click here for full Bulletin
1. Harrogate Line rail service improvements – new timetables look better
2. Chamber Traffic & Transport Update meeting – Air, Bus and Rail services
3. Virgin Trains East Coast – direct Harrogate-Kings Cross services from 2019
4. Harrogate Station named medium station of the year in National Rail Awards
5. No 36 Bus Service – Leeds-Harrogate every 10 minutes each way all day!
6. Railfuture – Yorkshire Rail Campaigner – Airport Parkway Station debate
7. References: Chamber REVIEW; DfT Minister's Letter; Yorkshire Rail Campaigner 38
__________________________
HARROGATE LINE SUPPORTERS GROUP BULLETINS
Click HLSG links to download Harrogate Line Supporters Group Bulletin as PDF files
Bulletin No.

Main Subjects

Issued

Air, Bus & Rail services; Virgin Trains EC; 36 Bus Service 10 mins.

Sept 2017

Positive response from Northern Rail on new Timetables

August 2017

Feedback from Members on Northern's Proposed Timetables

July 2017

Response to Northern Railway Consultation on Harrogate Line

July 2017

Serious flaws in planning and consultation with key Stakeholders

May 2017

Improvements achieved, committed, planned and proposed

January 2017

Harrogate - Leeds Bradford Airport Rail Connection Options

December 2016

Leeds Bradford Airport Parkway Station on the Harrogate Line

December 2016

Virgin Plans; Arriva Plans; Northern Plans; LBA Links

May 2017

Northern Franchise; LBA Parkway Line & Station Improvements

March 2016

Invitation to Chamber Meeting - Virgin, Transdev & NYCC

October 2015

New PPS; IEP Trains; Parking Charges; D78 Trains

May 2015

Promises of more and more trains to Harrogate!

March 2015

Electrification endorsed; Northern Consultation; LBA Parkway

October 2014

Rail North; Northern & TPE, Harrogate Line Developments

July 2014

Electrification Task Force; Rail Industry Day

June 2014

HARROGATE LINE INFORMATION SHEETS

Click HT links to download Harrogate Line Information Sheets as PDF files

Ref No

Title

Version No

Issued

Harrogate Line Objectives

7b

Jan 2015

Need for extra Harrogate-London direct services

v7

Sep 2012

Harrogate Line FAQs

Sep 2017

Harrogate Line electrification Business Case News

Harrogate-London Direct Services

9b

Feb 2014

How the London Trains Arrived

2

Mar 2015

Pilot Proposal - Why Harrogate "Metro" Line?

G(iii)

Aug 2011

Why Harrogate Trains? Summary

Feb 2014

Why Harrogate Trains? (25 pages)

2010h

Aug 2010

Chamber welcomes electrification campaign success

Mar 2015

Harrogate-Airport Bus Service

E

Jan 2015

Leeds Cross-City Lines

1

May 2016

Harrogate Line - Station Usage Statistics 2007-2016

a

May 2017

Harrogate Line Extra Trains - faster but non-stop?

e

July 2017

Harrogate Line - Suggested 2017-18 Timetable with extra trains

2b

May 2017

Priorities for new stations on Leeds-Harrogate-York Line + LBA Parkway

Sep 2014

LBIA Parkway Station - Consultants' Assessment Flawed?

Final

Jan 2015

Harrogate Line - Tram-Trains vs Heavy Rail

3

Mar 2017

Chamber welcomes new London-Harrogate Trains

Jan 2011

Chamber welcomes Virgin East Coast announcement

May 2016
For News Releases during the campaign click here
To find out more about the Virgin Trains East Coast direct trains between Harrogate and London click here